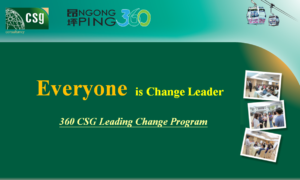 Introduction:
Change is imminent! No organization can remain static and must change continuously in order to succeed in this fast-paced competitive environment. It is instrumental for those in supervisory, line management and leading roles in the organization to embrace change and be equipped with skills and know-how to drive changes to help achieve business goals and results.
Ngong Ping 360 and CSG Consultancy have partnered to provide the "360 CSG Leading Change" program that will enable managers and executives to acquire a holistic understanding of leading change in corporation, anchoring the vision and paving the way to deliver successful results.
Program Objectives:
Develop 360° Holistic Mindset for Leading Change
Unleash the Change Intelligence to Deliver Results
Embrace changes and build the one team spirit
Program Highlights:
Program Overview & Ready-to-go Activity
Cable Car Soaring Experience to Ngong Ping Village
Change Leadership Activity
Provide Feedback
Closing & Cable Car back to NP360 Cable Car Terminal
Facilitators:
Nathan Yung – Chief Facilitator, CSG Consultancy
Nathan is a seminar speaker, corporate trainer and teamwork coach who has been contributing in abundant training and coaching sessions for 16 years. From his energetic style of training and facilitation, Nathan specializes in delivering speeches and workshops on Motivation, Leadership, Sales Process, Personal Growth, Team-building and Problem-solving with professional utilization on NLP, Enneagram, MBTI, ABC (Adventure-Based Counselling) and FISH! Philosophy.
Victor Ching – Performance Consultant, CSG Consultancy
Victor has more than 15-years experiences in talent development and training field, with the capacity of head position in giant companies. He earns a MA degree (credit) in global business management, Master in Applied Psychology (credit), BBA (honour) in Human Resources Management, and BA (honour) in Applied Psychology. He is also the certified trainer of Mental Toughness Coach (USA), and registered hypnotherapist in England and Canada.