Introduction:
CSG Consultancy recognizes the need among its clients to continuously invest in innovative performance solutions in order to retain and develop talents and remain responsive and competitive in the ever-changing business environment. The ability to bring cutting-edge, effective and practical solutions to clients requires collaborating with a diverse range of partners who are experienced in facilitating the mindset shifts and behavioral skills development required for high performance and effective leadership.
This Program has been prepared by GIFT for CSG Consultancy to provide a 1 day customized workshops designed to provide participants with practical skills in two core areas: outcome-driven meetings and creating & sustaining high-performance teams.
Background:
Since 2006 GIFT has facilitated more than 50 programmes in 15 countries for high potential managers of more than 60 nationalities, combining classroom and experiential learning to cultivate the mindset shifts and behavioural dynamics which help foster effective leadership skills and build high-performance teams.
Through facilitation and observation of over 1,500 high-potential managers from across sectors and functions, key qualities and behaviours have been determined to be beneficial for creating and maintaining consistently effective teams, ensuring that discussions and meetings result in actionable outputs and developing self-awareness for purposeful leadership.
Anchoring the learning experiences with practical and implementable tools allows participants to bring their learnings back to the workplace and provides a tangible resource for continuous application of what they learned in the workshops with their teams. GIFT has distilled the skills for effective leadership into a powerful proprietary toolkit to help enhance leadership effectiveness using concise and actionable methods.
Workshop Learning Objectives:
Encourage critical thinking and self-awareness of one's working style and interactions with others both as a leader and member of a team.
Build motivation to improve personal skills for leadership effectiveness and team performance.
Foster impactful learning through shared experiences and giving and receiving feedback from others.
Integrate the use of practical tools for self- development and for enhancing engagement and collaboration with clear outcomes.
Plan personal action items for implementation of new skills back in the workplace and for sharing with others.
Program Highlights:
(1) Facilitating Outcome-Driven Meetings:
Employees at all levels within companies spend an increasing amount of time in meetings. If meetings are well prepared and managed, they can lead to greater meaningful engagement between members of the team, improve focus on important issues and solutions, enable more time outside of the meeting for achieving results and enhance overall energy and team morale. A critical issue faced by many companies is that a significant amount of time is spent in unproductive meetings with no specific outcomes.
Leading effective outcome-driven meetings is a skill that can be learned and developed. The PASSION tool provides straightforward and highly practical guidelines for facilitating inclusive meetings which result in actionable outcomes.
Participants are given an easy-to-use template and scorecard and are guided through each aspect of the tool and how to actively use it as a resource when facilitating a meeting. It is equally relevant for internal as well as external meetings. In the workshop participants will have an opportunity to practice using the tool and receiving feedback on their performance from both peers and facilitators. Following the workshop, the tool can be applied by participants within their own teams back in the office.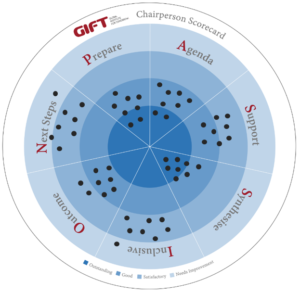 PREPARE for the meeting in advance
Create an AGENDA and share with attendees in advance to keep discussions on track
Actively provide SUPPORT to facilitate discussions and idea generation
SYNTHESISE ideas to create a coherent picture
Create an INCLUSIVE atmosphere for everyone to share their thoughts
Ensure an OUTCOME is generated before the meeting ends
Outline the NEXT STEPS and relevant action items
(KEY TAKEAWAY: Be able to facilitate effective and inclusive meetings with actionable outcomes)
(2) Leading High Performance Teams:
In today's global business environment there is a growing recognition of the need for diverse thinking within teams to promote innovation and identify solutions to complex issues. Teams are often cross-functional, cross-sectorial, multi-cultural and inter-generational, comprised of individuals with a wide assortment of experiences, expertise and perspectives. Amidst increasing diversity, how should team leaders set the tone and intervene effectively to drive toward desired outcomes?
Even when teams are not overtly diverse, team leaders must actively manage the dynamics and seek to create a high-performance working environment. Team members must be able to assert themselves, intervene when necessary and positively influence outcomes.
The ability for everyone in a team to be acutely aware of the behaviours of others as well as themselves, and take the necessary action to support and move processes forward, is critical for a team's collective success. A motivated and inspired team with members who are willing to give input, unafraid to share opinions and able to resolve conflicts greatly enhances overall team effectiveness and individual satisfaction.
The PRISM tool leverages five key components for high-performing teams:
Positivity
Respect
Inclusivity
Self-awareness
Moment
During the workshop participants will become familiarised with the five key components of the PRISM tool in a team setting where they will have an opportunity to learn and to practice. They will be supported and encouraged to become aware of team dynamics and learn when and how best to intervene in order to drive high-performance.
The PRISM tool does not prescribe strict instructions to follow. Instead it articulates the key principles that can be applied in different situations in order to enhance team function. Knowing when and how to intervene in a group process, as a member of a team or as a team leader, and having the cultural dexterity to do so effectively goes to the heart of leadership.
(KEY TAKEAWAY: Learn when and how best to intervene in a team setting to drive high-performance)
Agenda:
The agenda below draws on GIFT's extensive experience facilitating leadership learning in both classroom and field-work settings.
Format: Workshops will be customised to client requirements and based on a combination of the following:
Lecture – Proprietary content drawn from GIFT's experiential learning programmes.
Discussion – Facilitated engagement and discussion to promote peer-to-peer learning and an ability to think critically and assert one's own independent views.
Interactive Breakout Sessions – Opportunity to practice using the tools and become familiar with their real-world applications as preparation for implementing them back in their own teams.
Facilitators
Eric Stryson, GIFT Managing Director
Since 2008 Eric has facilitated more than 40 GIFT experiential leadership programmes in 15 countries for companies including HSBC, BASF, NEC, FedEx, China Light & Power, Temasek and MasterCard. Eric is well versed in introducing new ideas on business, leadership and sustainability and coaching participants to think critically about their role as leaders within their organizations.
Karim Rushdy, GIFT Head of Programmes
Karim joined GIFT in 2010 shortly after participating in one of the company's flagship Global Leaders Programmes. In the past five years he has designed and facilitated 20 customised and open enrollment experiential leadership programmes for high potential managers and civil servants from leading global and regional companies as well as governments and NGOs.
Program Information:
Date: TBC
Venue: TBC
Fee: TBC
Language: TBC
Know More about Global Institute For Tomorrow (GIFT):  www.global-inst.com