Our Goal
Help organizations building the High Performing Teams where team members make their best contributions, boost team results.
Our History
In 2018, with the target to provide even better Performance-based Teambuilding Solutions, Life Master Consulting Limited is glad to cooperate with CSG Consultancy to establish the TeamBuilding Academy.  By combining with latest technology, modern team assessment tools, and innovative teambuilding solutions for all levels of staffs, TeamBuilding Academy will enable the long-lasting results to boost the team performance!
Our Services
TeamBuilding Activities
TeamBuilding Support – Pre & Post Activities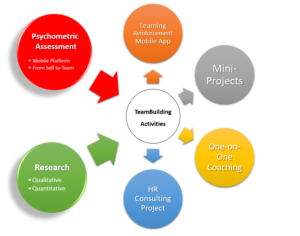 TeamBuilding Academy Director – Steven Leung 梁璟珩
Training Philosophy
Our approach 100% applied experiential learning as major delivery tool
Design based on Clients' Needs, Themes and Targets
According to Edgar Dale's Research:"Learning by Doing" is active learning model to create the most effective learning result to 70-90%
We Believe Experiential Learning can help client to learn complex concepts in short period of time, Especially on:
Understanding Oneself
Discover Competencies
Enhance Personal Growth
Improve Social Network
Equip Management Skills
The collective qualifications summary of our Trainers and Coaches:
Master of Business Administration
Master of Social Work
Bachelor of Business Management
Bachelor of Business Accounting
Bachelor of Human Resources
Registered hypnotist
NLP Trainers/ Facilitators
Personality Dimension Facilitators
Low Event Adventure Trainers
High Event Adventure Trainers
Abseiling Adventure Trainers
Sport/Rock Climbing Trainers
Hiking Trainers
Diving Trainers
Double Rope Rescue Trainers
Leave no Trace Trainers
AYP Trainers
Myers-Briggs Type Indicator ® Facilitator
DISC Facilitators
Dermatologist
First Aiders
Our TeamBuilding Partners
Our Served TeamBuilding Clients
Compliment from Clients
"It was indeed a pleasure meeting you and your colleagues.  My team had a wonderful time on both days and it was so enjoyable and interactive.
All facilitators are so passionate and enthusiastic and we are delighted to receive such innovative training conducted by Life Master Consulting Limited."
Managing Director – Christian Dior
"Your Lending is energetic, passionate and inspiring and allow members to learn the key to synergy their businesses with BNI Platform. I am impressed by your debriefings which are closely applied with the business concept of BNI. Also, the designed activities were excellent to facilitate members to learn concepts from it."
President – BNI Abundance Chapter
"The whole-day training focusing on team building, communication and initiative was conducted by Mr. Steven Leung who is experienced and attracted our member with his humorous and yet inspiring approach. The training was successful and our member spent and enjoyable and fruitful day with highly positive comment for the program of the training."
Operations Director – Ernest Borel
"We had wonderful time and experience for holding conference and team building activities in your hotel, and were impressed by the excellent service, quality food and inspiring team building activities provided by an energetic, diligent and professional team."
Senior Manager – Swire Beverages Ltd